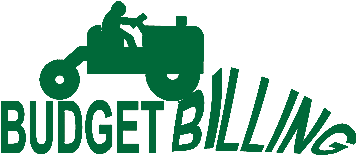 Smooth Out Higher Winter or Summer Electric Bills

Budget Billing is Closed for 2023. Please check back May 2024.



Enrollment for 2023 Budget Billing opens May 17, 2023 and closes July 1, 2023
The Budget Billing Program allows you to pay the same amount each month on your electric bill.  This provides for a known monthly payment avoiding fluctuations in your electric bill.
The program cycle begins with the July bill and ends with the June billing the following year.
When you sign up for Budget Billing, your payment amount is calculated based on the previous year's energy use. The calculated budget amount will be setup to bill for eleven months.
Every month, your account is reviewed for substantial changes in usage, but the budget amount may only be adjusted if your average usage increases or decreases by at least 10%.
The June bill is a true-up, which completes the billing for the twelve-month budget period.
If your June "true-up" bill results in a credit balance, it will be applied toward future electric bills or you may request a refund.
While in the program, payments must be made by the due date. If the account becomes past due, your account will revert to regular billing.
Budget Billing is most helpful for residents who haven't moved recently because a family can use vastly different amounts of energy from one home to the next. For this reason, the program is only available to residents who have lived in the same location for at least nine months. 
For the same reason, Budget Billing at one residence can't carry forward to the next location if the family moves during the budget year.
To qualify:
must have at least 9 months of electric usage history at the same location
the account balance must be zero at the time of enrollment
you can click here to see your budget billing monthly payment and to enroll.
Otherwise, hard copies of the form are mailed with the may electric bills. If you sign up with a hard copy, completed hard copies should be mailed to:
Eastern Maine Electric Co-op
Attn: Budget Billing
P. O. Box 425
Calais, ME 04619
Sometimes a budget-billed residence will have a substantial increase or decrease in used energy during the budget year. If that happens, the co-op will recalculate the budget amount (upward or downward), and the member is mailed a letter with the new budget payment amount.
The budget program is only available for residential accounts that are current when the new budgets begin in July.
If a co-op member falls behind on his or her budget payments, their account will revert to regular billing.
If you have questions about the program, contact Eastern Maine Electric's billing department by dialing (800) 696-7444 and press menu option 2.